Virtual reality (VR) and the metaverse as a whole are offering us the chance to create our own experiences and write our own stories.
And with the amazing features that this technological innovation has to offer, many industries and organizations in the health, gaming, tourism, sports, and other industries have been able to use VR technology to improve efficiency in the way they operate and attend to users.
The education sector is one of those set to benefit from the emergence of virtual reality, with schools being able to use VR platforms and services to grant their students access to the immersive learning experience VR has to offer.
However, the virtual tours that schools can utilize to educate and entertain their students are still underutilized, despite how immersive and realistic VR tours are.
So what is so special about VR tours? And how are schools missing out on these new teaching and research methods?
In this article, let's find out why schools without virtual reality tours are missing out.
1. Virtual Reality Creates an Immersive Learning Experience for Students
If you asked students who went on a tour what they learned from the trip, you might find out that the majority of them can't even point to something meaningful they learned.
This is because students can easily be distracted and may have visited a different area of attraction at the campus, theme park, or library, which may not relate to what the school wants them to learn from the tour.
With VR, the students are immersed in an environment that is free of any distraction, so they get to pay full attention to the messages you're passing across during the tour.
2. Virtual Reality Helps Students Connect Personally With The Learning Experience
The personal connection of each student with the events of a tour is very important; therefore, if you want to embark on a trip where no student feels left out or feels that the tour was boring, then you should consider a virtual tour.
With VR, there's no spectator; every student has a personal connection with the learning experience during the tour, and since everyone participates, students don't only feel as if they're part of a huge class with only an instructor telling the whole story.
The VR environments enable each student to be a part of the story and the tour events.
In addition, students don't have to stick together like in a physical tour where you have to worry about the safety of every student; everyone can roam around in the virtual environment and create their own experience of the tour.
There's no student who feels unhappy because they weren't allowed to go to a section of the site that attracted their attention.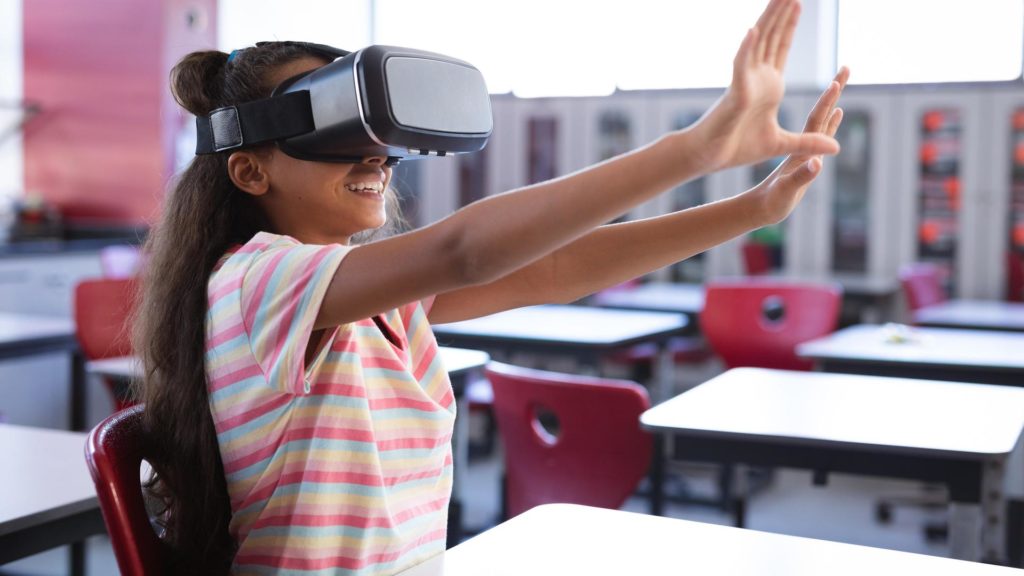 3. Virtual Tours Are Safer
If you've been assigned to lead students on a trip to a campus or an amusement park, then the number one thing you probably had to worry about was the safety and welfare of the students, especially if they were small children in a nursery or primary class.
Virtual tours are almost risk-free, with no security risks such as accidents or kidnappings.
If your school is putting safety first when planning a tour, then a virtual tour is definitely the best option.
4. An Alternative Method of Learning
Many students find it boring to just sit in a class and watch another person do the talking; therefore, they fail to concentrate, which may affect their performance.
VR tours provide an alternative method of learning to the traditional methods used in schools. In addition, you don't have to wait for a particular week during the session for a virtual tour, as they're not as time-consuming and stressful as physical ones.
5. Physical Tours Can Be Expensive
Physical tours can be very expensive as you have to factor in various expenses such as transportation costs, refreshments, and entry fees.
To illustrate, if your school is in Lagos and you want to take students to see the Kainji Dam in Niger State, then the cost of transportation may be a huge stumbling block.
6. You Can Visit Any Place With Virtual Tours
Here's another area in which schools that don't take virtual tours seriously are missing out.
With virtual tours, you can visit anywhere in the world, be it the Eiffel Tower, the World Trade Center, or an amusement park miles across the ocean.
It even gets better: with VR tours, you don't have to worry about getting a visa or convincing parents to pay for flight tickets and allow the school to take their children outside the country.
Virtual tours eliminate the obstacles that may hinder you from touring a site that is physically impossible.
---
If you are in Lagos, Abuja, Ibadan or in major cities in Nigeria and needs a virtual reality company, Insightful3D Studio is your preferred virtual reality firm.

Trusted by tens of top brands, Insightful3D helps you craft immersive virtual reality or virtual tours that help sell your projects faster to the targeted audience. You can visit the website or contact Insightful3D Studio here- insightful3d.com