Virtual Reality (VR) and Augmented Reality (AR) are becoming more and more popular globally, bringing about a shift in paradigm in various industries and reshaping our digital content experiences. Nigeria is a prominent technology hub in Africa that is also witnessing a surge in the adoption of VR and AR applications. In this article, we look at the top VR/AR companies in Nigeria. But first, let us provide a brief reminder on the what's VR and AR.
What is Virtual Reality (VR)?
Virtual Reality (VR) entails the computer-generated emulation of an alternate world or reality. VR immerse the user in a virtual environment that simulates reality through the use of interactive devices, which send and receive information through VR headsets, controllers and other devices worn on the body called trackers. It's a powerful tool that helps to virtually replicate real-world scenarios and deeply immerse users in the digital world. Virtual reality finds practical use in several domains including in areas like virtual training, education, product demos, tourism and travels, marketing and even in scientific research.
What is Augmented Reality (AR)?
Augmented Reality (AR) represents a fusion of the digital realm and physical elements to construct an artificial environment. AR is a process of combining or "augmenting" digital contents like video or images, 3D models, etc and overlaying these digital contents on a real-world environment to generate an "augmented" reality. In this way, augmented reality alters one's ongoing perception of a real-world environment, whereas virtual reality completely replaces the user's real-world environment with a simulated one.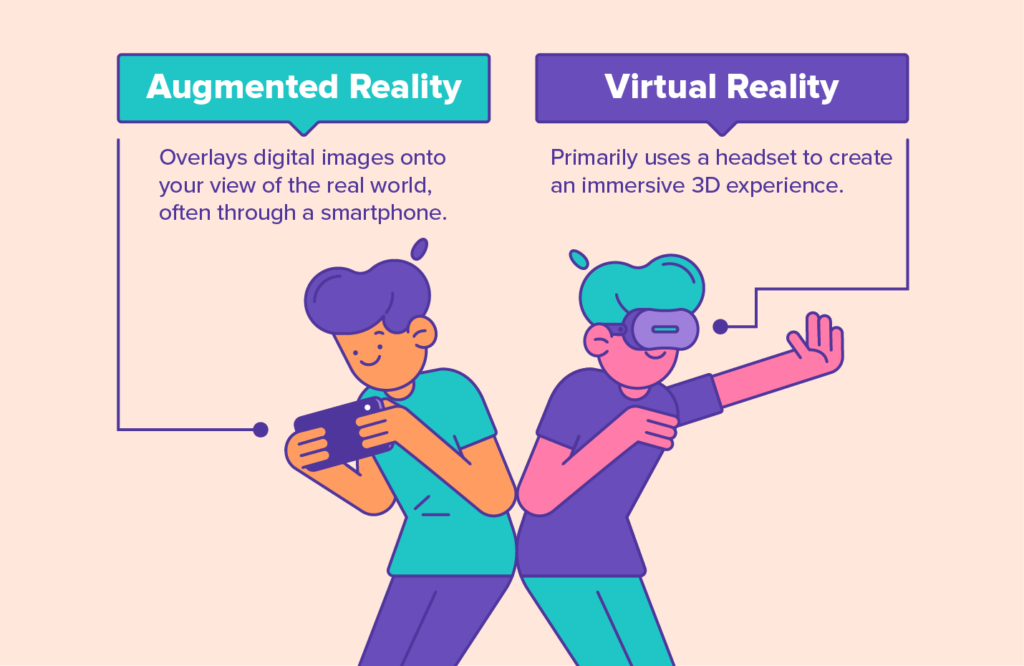 List of Top VR/AR Companies in Nigeria
Here is a list of visionary companies and startups leveraging this cutting-edge technology to redefine marketing, brand activation and customer engagement. Below are carefully researched selection of Nigeria's leading AR and VR firms that are revolutionizing industries in Nigeria and Africa at large.

1. Insightful3D Studio:
Insightful3D Studio, based in Lagos, offers clients in various industries in real estate, building and construction, interior design, product design, education, advertising and other adjoining industries, a range of VR and AR services including photo-realistic 3D modelling and rendering. The company employs advanced software and design techniques to craft immersive VR experiences and contents that aid brands in better communicating their concepts, designs, developing prototypes, and marketing.

The company has high-profile brands in and outside Nigeria as clients. Insightful3D Studio said they are dedicated to helping clients realize their concepts and market their ideas and products in a more efficient and effective manner by utilizing the compelling advantage that immersive VR/AR solution provides.

Website: www.insightful3d.com

2. EngulfVR:
EngulfVR is another VR/AR player in the Nigerian market. It offers VR/AR solutions for industries like healthcare, construction, real estate and education. The company operates gaming centers where users can play VR games and experience other VR entertainment. EngulfVR also boasts of big brands as clients. The company was established in 2019 and is one of the leading VR companies in Nigeria.

Website: www.engulfvr.com

3. Imisi 3D:
Imisi3D is a Lagos-based firm/NGO spear-heading the advancement of AR and VR technology adoption in Nigeria and Africa. Established in 2017, their objective is to revolutionize learning, creativity, and information sharing through immersive experiences. Imisi3D provides a comprehensive range of services, encompassing technology consultation, content development, and training. The company also operates a makerspace, where technology enthusiasts can explore cutting-edge innovations like AR, VR, and 3D printing.

Website: www.imisi3d.com

4. Experis Immersive:
Experis Immersive, an Abuja virtual tour and VR content developer, specializes in creating visually captivating virtual tour experiences. With a focus on delivering great virtual tour contents, the company is establishing itself as a leading provider of virtual tours for real estate in the region. Experis Immersive is not limiting themselves to Abuja but are also pushing across Africa, as they continue to expand their reach and establish a presence in the industry.

Website: www.experisimmersive.com

5. CovarkXR:
CovarkXR is an XR company based in Lagos, and is committed to providing customers with exceptional real estate experiences. Through their proptech platform, they are simplifying the creation of immersive experiences, enabling the showcasing of off-plan and building projects. With CovarkXR, clients can step into the metaverse, where their real estate dreams can come to life in a virtual environment. Their platform is enabling customers to interact with and explore real estate, offering a unique and transformative experience for both buyers and developers.

Website: www.covarkxr.com

Conclusion:
Though it is still in its early stage, it is apparent that Nigeria's AR and VR landscape is promising and will continue to flourish. Brands should therefore prepare to leverage on the professional local players to help them adopt VR/AR in their product designs, marketing, training and even in entertainment. VR and AR are redefining customer experiences, revolutionizing training/education, and reshaping industries. VR/AR are gateways into the new world of consumer experience and provide huge first-mover advantages for companies and organizations in Nigeria that make it part of their business strategy.