In Nigeria, real estate businesses are constantly looking for new ways they can land more clients, improve customer service, and optimize the way Nigeria's competitive property market operates.
Proptech (property technology) is one of these new ways that real estate businesses have succeeded, as with the application of proptech to the property market, businesses have been able to accelerate the processes of marketing, buying, renting, selling, and showcasing properties.
However, with all these improvements, the need for more advanced approaches to the use of technology in the real estate industry is still evident, and virtual tours have provided the perfect answer.
So, what is the role of virtual tours in proptech and the Nigerian real estate industry as a whole, and how is it changing the face of real estate businesses?
What Is a Virtual Tour in Real Estate?
Virtual tours of real estate are often created using virtual reality environments in the metaverse to help clients access more information about a property.
A virtual tour has been adopted as an innovative technology to optimize the way real estate businesses relate to potential clients.
With virtual tours, real estate businesses have been able to provide access to listings without the need for physical interaction, inspection, or potential clients leaving the comfort of their homes.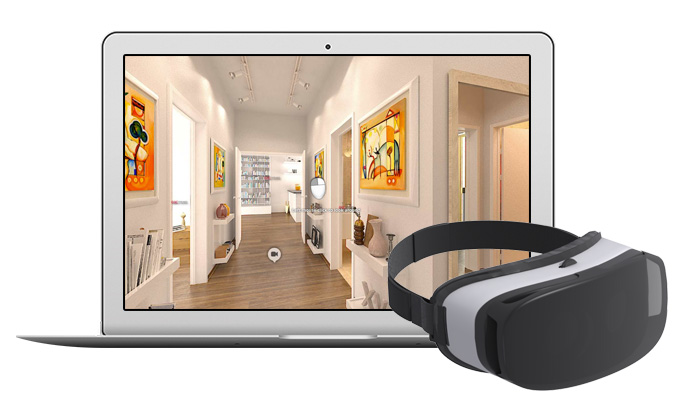 Ways Virtual Tours Are Changing the Face of Real Estate Businesses
A virtual tour provides many avenues through which real estate businesses can optimize the way they offer their services to clients.
Virtual tours make it possible for businesses to guide clients on how to operate appliances and find their way around a property they've just paid for (such as hotels and Airbnbs).
Here are other ways a virtual tour can help Nigerian real estate businesses.
1. Property Showcases
A recent study from realtor.com revealed that listings that offer virtual tours receive 87% more views than those that don't.
This shows that showcasing properties through virtual tours is an effective way to grab the attention of potential clients and convince them to take the next step towards patronizing your real estate business.
Not only that, a virtual tour of a property can also give clients insight into the property they want while also creating a connection with the property.
With virtual tours, businesses can also use property showcasing to convince clients and speed up the decision-making process.
2. House Hunting
If you're living in Lagos, you probably know how hard it is to go house hunting in a big city where you can get held up in traffic for hours on a journey that would normally take twenty minutes on foot.
As if that's not enough, being stuck in traffic is only one of the many challenges associated with house hunting in Nigeria; there are also the security challenges and the time-consuming and financially draining aspects of house hunting.
With virtual tours, clients can go house hunting without leaving the comfort of their home, wasting money, time, and energy they could have spent doing other important things.
3. Targeted Advertising
Virtual tours give real estate businesses an opportunity to access accurate data and information on client behavior so they can use the information in their marketing and advertising campaigns.
The social media advertising campaigns that aren't as effective for the property market as expected have led to the discovery of virtual tours as an effective method of advertising for the real estate market.
4. An Efficient Alternative to Traditional Methods
Being more efficient than traditional methods is another way virtual tours are changing the face of real estate businesses.
Unlike traditional methods used in the real estate industry, which are time-consuming, expensive, and inconvenient, virtual tours offer an alternative method that is convenient, time-efficient, cheaper, and safer than the traditional ways that are being used in the real estate industry.
5. Access to Millions of Potential Clients
If a property is listed in Ibadan, then it will be nearly impossible for residents of Maiduguri to do a physical inspection of the property, which means that only clients who are close to the location can access information on the property.
With virtual tours, real estate businesses enjoy access to millions of potential clients all over the country, so getting people to know about a property won't be restricted to signposts and flyers.
Clients can now tour properties and patronize real estate businesses regardless of their location.
---
If you are in Lagos, Abuja, Ibadan or in major cities in Nigeria and needs a virtual tour company, Insightful3D Studio is your preferred virtual reality firm.

Trusted by top brands, Insightful3D helps you craft immersive virtual reality and virtual tours that help sell your projects faster to the targeted audience. You can contact Insightful3D Studio or learn more here: insightful3d.com