The real estate industry is one of the most lucrative industries in the Nigerian economy, with the GDP of the Nigerian real estate market reaching almost four trillion naira during the COVID-19 pandemic in 2020.
With how massive the real estate market is, Nigerian real estate businesses are always on the lookout for new ways they can increase sales, attract potential clients, and improve client satisfaction, especially with new competitors appearing on the market.
At the center of these efforts to improve businesses in the real estate industry is virtual reality, an emerging technology offering new ways to interact and socialize with other people around the world in a virtual world.
So what is virtual reality, and how can this new technology help boost Nigerian real estate businesses?
What is Virtual Reality (VR)?
Virtual reality is simply presenting the imitation of a real-life environment digitally. It's the use of computer simulations to create a three-dimensional artificial environment that gives the user an immersive experience.
With the use of devices such as a VR headset, VR presents visual and auditory information that creates an immersive experience in the virtual environment, making the user believe that what they're experiencing is real when, in fact, it's not.
Ways VR can Boost Nigerian Real Estate Businesses
Real estate businesses can use VR technologies and platforms to improve their business in so many ways that social media platforms, digital marketing, and advertising cannot.
Here are some ways companies in the Nigerian real estate industry can elevate their businesses with virtual reality.
1. A Realistic Virtual Showcasing of Properties
With the "what I ordered vs. what I got" experience that has been the trend on social media, an image isn't enough to convince potential clients to take the next step and physically inspect the property they want to rent or buy.
Thus, with people finding it difficult to believe what they see on their screens, a realistic presentation is necessary.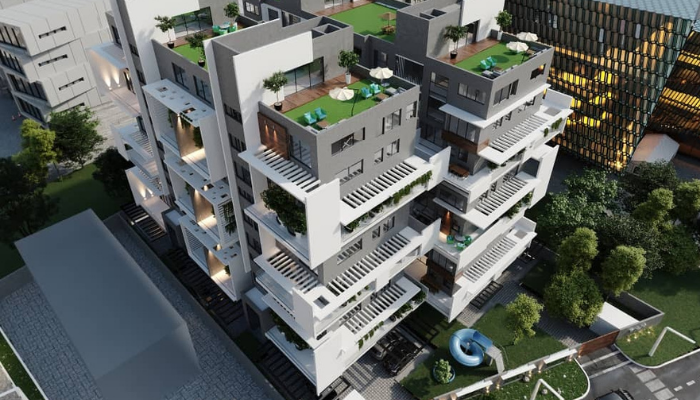 With VR technology, you can not only showcase the real physical state of the building or land you want to sell, but you can also present it digitally to the potential client through a platform that
offers the client an immersive experience of your property and creates a memory that will last with the client.
2. Virtual Interior Decoration and Design
Virtual reality is a technology that can be used to digitally furnish a home you're about to sell or lease.
With VR technology, you can make a home look like it's furnished without actually moving or renting real furniture and other household items.
Using VR interior design and decoration apps such as Live Home 3D and Planner 5D, you can add chairs, tables, and paintings virtually without spending a dime renting, buying, or moving them to your home.
So if you have an empty home or a home with outdated furnishings that you need to list on the market, then you should consider virtual reality.
3. Convince Potential Clients who want to Relocate to Nigeria
Let's be honest: it's difficult to convince a client who doesn't even reside in the same country as you to buy a house or rent an apartment by merely sending images.
Many real estate agents have lost potential clients because they lack the necessary tools to convince the client that the deal they're offering them is the best offer they can get.
VR removes this barrier by making it possible to show the potential client the property in a realistic way that gives the client the value of what they're getting in return for their money.
4. Targeted Advertising
Online marketing methods are not effective enough for the real estate market, as people find it difficult to buy a house or rent an apartment from an ad they saw on Facebook or Instagram.
In addition, social media marketing campaigns can sometimes fail to reach the real people who need the product or service being advertised, especially with so many fake profiles on social media platforms.
However, virtual reality eliminates these barriers to marketing in the real estate industry. VR collects personal information about users, which can be used to determine their movements, places they like to visit, and any other data that Nigerian real estate businesses can use to carry out targeted advertising.
With virtual reality, they can market their services to potential clients and use the immersive experiences that VR offers to increase interest in their services.
5. Planning and Experimentation
Imagine you want to decorate a home before you make a listing, and you need to try out different kinds of furniture to see which one brings the best out of your overall design.
Would you rather spend money renting different kinds of furniture so you can try them out or save yourself the hassle and use software that allows you to try out as many options as you like without draining your wallet?
Virtual reality makes it possible to plan and experiment with the interior and architectural designs of your property and visualize them just as they would look physically.
6. Pitch Ideas to Potential Investors
If you want to convince people to invest in your business, you need something that can WOW! your potential investors and convince them to risk their money on your business, and what better tool to use than one that can walk them through what you're into so they can have the experience even if they're far away from your location?
7. Virtual Tours
Most clients prefer to look at different properties before evaluating their options and deciding which property they should buy or rent.
This can be time-consuming, stressful, and expensive, with the possibility that the client will choose a property that belongs to your competitor after all the stress.
With VR, you can take your potential client on a tour of properties they might love in a virtual world and boost your chances of getting a potential client to choose your property without wasting your time or stressing yourself unnecessarily.
---
When you need a virtual reality company, Insightful3D Studio is your preferred virtual reality firm.

Trusted by tens of top brands, Insightful3D helps you craft immersive virtual reality or virtual tours that help sell your projects faster to the targeted audience. You can visit the website or contact Insightful3D Studio here- insightful3d.com